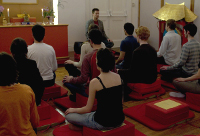 Date:
Wednesday 11 December 2019 (19:15 -21:00)

Location:
Main meditation hall
Monday and Wednesday evenings at the Shambhala Centre provide an opportunity to deepen your meditation by engaging in group meditation practice. If you have an established mindfulness meditation practice you are very welcome to join our open group meditation practice evenings (we offer a 4-week 'Learn to Meditate' course for those who are new to meditation, or want further training).
There is no need to register - just come along. On your first visit, please speak to one of our instructors. They will explain walking meditation, discuss your practice and may offer some helpful pointers. There is no charge for this.
An experienced meditation instructor will always be available (free of charge) if you have questions as your meditation practice develops, or wish to get further suggestions or ideas about developing a healthy personal practice. You can also find out more about Shambhala and the courses and training we offer.
Contact [email protected] for more information.
7:45-9:00 pm (we will open and serve tea from 7:15 pm).
We suggest a donation in the region of £5 if you can afford and would like to do so.
The London Shambhala Centre has been teaching mindfulness meditation to all – regardless of background and religious beliefs – for over thirty years. Our instructors have many years experience of personal practice and have completed intensive training retreats in how to teach meditation to others.